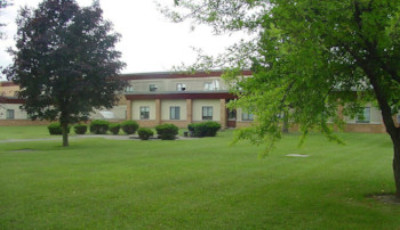 Joe Pullen Education Center
The Adrian High School Courtyard is being redesigned into an Outdoor Education Center and being named for long-time AHS biology teacher and AHS Alum Joe Pullen '55. Joe died unexpectedly in 2014 and had remained a volunteer for many Maple sports programs until that time. Joe's love for outdoor education was evidenced by his biology students as they took field trips to study plants, waterways and nature in general. J.P. was also a swimming and cross country coach, and introduced many students to canoeing, camping and hiking.
The 36,000 square-foot student designed education center will feature an outdoor lecture space, café/picnic area, a working green house, a performance stage and seating areas. Students have worked on the design of the space with the help of landscape designer Joe Wilson '89. Hidden Lake Gardens will help students label plants in the outdoor center.
The Adrian Schools Educational Foundation is raising $200,000 to help the district with this project. District taxpayers approved a bond issue that had money for the infrastructure updates needed to make the courtyard functional. Many alumni have participated in this fund drive with two matching grants that triple every donation that comes in up to $25,000.
As of January, $80,000 was needed to complete this campaign. Please consider joining this drive today!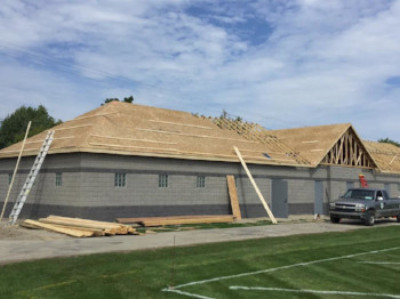 Maple Stadium Team Room
The Maple gridiron is experiencing a wonderful makeover as a result of a bond issue last spring securing funds for updated restrooms and concession, bleachers, lighting and a new entrance and parking lot.
Along with the improvements covered with funds from the bond, a campaign to build a new team building was championed by the Adrian Schools Educational Foundation. The team room will be a new building at the stadium. There has never been a building at the field for the Maple football players, opponents nor officials to use during games. This will greatly modernize the facility which is a gathering place for the community.
Fundraising for the team buiding is led by AHS Alum Dane Nelson '67, who not only played on the field, but also is the son of Cliff Nelson, former AHS Athletic Director and designer of the original field plans 60 years ago. Goal for the team building and improvements at the north end of the field is $500,000 with about $260,000 raised to date.
Consider helping with this project by donating today.
Memorial Garden
A new space for reflection has been installed at the high school, a place for students and the public to walk, sit, study, reflect and create. Trees are available for purchase $500 (Maple) $250 (spruce) and $800 for an eight-foot finished steel bench. The trees and benches can be named in memory or honor of an alum or teacher. A $200 donation goes to the general upkeep fund for the garden. The garden was begun as a way to plant memory trees in a place safe from future expansion of the school property.
The Class of 2014 and Drs. Robert '55 and Dorothy Barnes gave seed money to get the project off the ground, and Underwood Nursery gave nursery stock and labor to begin the garden. All work including pouring the concrete walkways, was done with the help of volunteers. If you would like to purchase a tree or bench for the garden, please donate now!